Stay updated on the top ITSM technology trends with the Gartner 2022 Hype Cycle™ for IT Service Management.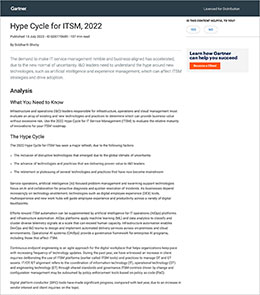 About the Report
"The demand to make IT service management nimble and business-aligned has accelerated, due to the new normal of uncertainty. I&O leaders need to understand the hype around new technologies, such as artificial intelligence and experience management, which can affect ITSM strategies and drive adoption."
What You Need to Know
"Infrastructure and operations (I&O) leaders responsible for infrastructure, operations and cloud management must evaluate an array of existing and new technologies and practices to determine which can provide business value without excessive risk. Use the 2022 Hype Cycle for IT Service Management (ITSM) to evaluate the relative maturity of innovations for your ITSM roadmap."

Complimentary Research From Gartner®
Gartner,Hype Cycle for ITSM, Siddharth Shetty, 13 July 2022
GARTNER and Hype Cycle are registered trademark and service mark of Gartner, Inc. and/or its affiliates in the U.S. and internationally and are used herein with permission. All rights reserved.