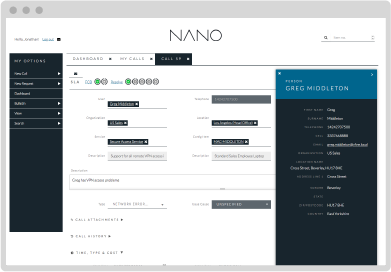 Nano is GA Ready.
Nano has passed its beta phase of development, and is now GA status. See Introducing Nano to learn more about Nano, and Nano Feature List to find out about functionality that is available in this release.
Arrive. Do. Leave.
The no-plugin interface that's designed for the rest of us. Nano focuses on the User Experience and getting the job done easily. Everything from its looks to ergonomics has been designed to deliver a slick, effortless experience empowering analysts who are first-time and occasional users.
No plug-ins of any kind are required and it can be run on any browser.
Nano provides a simplified interface and functions for occasional users who:
Work with calls - creating, updating and closing calls
Work with requests - creating, updating, and completing requests
Work with tasks and approvals - updating and completing tasks and approvals
Send emails from calls, requests, or tasks
Manage their workload using the Outstanding windows
Review and edit Knowledge Articles, CMDB Items, and Person records
The key new features in this release include: