Alemba is proud to be a local Hub for the 2019 Tranzfuser programme.
Surrey, and Guildford in particular, has a rich gaming heritage and is home to successful gaming studios such as Electronic Arts, Hello Games and Media Molecule.
We're excited to help carry on this tradition by supporting and developing the new generation of games developers in the Surrey region as part of our community engagement programme.
Dev Vlog
Follow Mediashake's development of Project: S.A.M.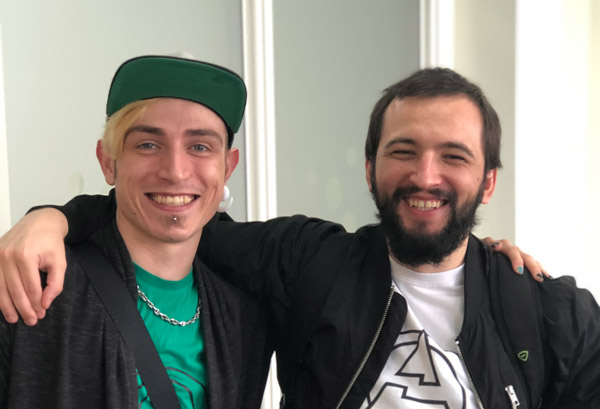 View now
What is Tranzfuser?
Brought to you by UK Games Talent and Finance CIC, Tranzfuser is a government-funded UK talent development programme aimed at supplying a pipeline to enterprise and/or employment recognition for new UK games graduates, taking teams from concept and prototyping through to publishing.
During the 10-week programme, selected teams will receive:
Access to a local Tranzfuser hub
£2.5k to allocate as they choose to produce a demo for the Tranzfuser Pitch Event
A further £2.5k for teams that progress to the second stage of the competition
The opportunity for shortlisted teams to showcase their prototype at a high-profile national games show
The winner will receive follow-on funding from the UK Games Fund to commercialise their game and launch their company.
---

The Alemba Team
As a Tranzfuser Hub, Alemba will be hosting the Mediashake team at our Send office for the duration of the programme. The Mediashake team will have:
Free access to office space, meeting rooms and high-speed internet
Marketing and PR promotion through our Marketing department
Mentorship from our team of experienced software developers and graphic designers
Assistance with Business plan development
Exposure to the workings of a successful software development company
Mediashake is developing Project: S.A.M, an action-packed adventure game set in a futuristic world where the proliferation of nano-machines threaten the continued existence of the city of Zion, the last bastion of humankind.
Mediashake will have the opportunity to pitch their game idea at the Tranzfuser Pitch Event in September and compete for the chance to showcase their prototype at a high-profile national games show.
---
Find out more about the Tranzfuser programme here.
Follow Team Mediashake: @MediaShakeLtd