Kroger & Alemba Service Manager: A long-standing relationship
Having first implemented Alemba Service Manager's predecessor, infraEnterprise v8, in November 2008, Kroger have relied on Alemba Service Manager technology to ensure the smooth operation of their Service Management processes for the better part of a decade.
Kroger expanded the use of Alemba Service Manager Enterprise Service Management software across a number of their business units, including Pharmacy, Loss Prevention, Contract Management, and HR.
Currently, there are 4,586 Alemba Service Manager analysts servicing half a million customers across the United States.
Challenges
Overseeing the Service Management requirements of the third-largest retailer in the world is no small scale operation. Kroger's Service Desk is tasked with managing an overwhelming number of Incidents and Service Requests on a daily basis.
Approximately 1 and a half million Incidents are processed per year. Add to this roughly 1,100 Change Requests per month and an average of 1,200 Service Requests per day, and it is clear that the Kroger team has their hands full.
To ensure consistency and efficiency, the Kroger Technology team implemented automated workflow processes for Service Requests.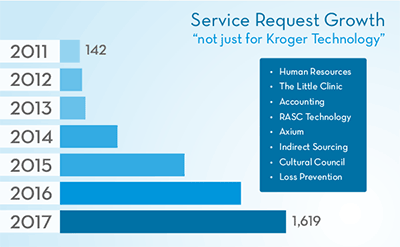 Efficiency through automation
Kroger leverages Alemba Service Manager's flexible workflow capabilities to automate mission critical processes across the organization. Most notably, workflow automation is used to automate IP provisioning and the provisioning of non-production or production servers.
"It is all done automatically with no need for human interaction – and it all happens very quickly"
Automated IP provisioning is made possible through Kroger's integrated DNS service. Users can complete requests for IP addresses or IP aliases. This is then automatically provisioned.
Kroger's internal cloud offering allows users to request a non-production or production server. Users can specify the type of server, database size and other specifications. Once the Service Request is submitted Alemba Service Manager interacts with Kroger's Internal Cloud to "stand up" the specified infrastructure.
The user is alerted via email once the server is ready. This automation process means that work that could take days or hours is cut to minutes and seconds. The user can see all the exact steps as the process progresses. In fact, it happens so quickly, that there are no concerns in terms of delivery.
The benefits of workflow automation have also been expanded to Kroger's HR department, and is particularly useful for vetting new hires in the company's various retails stores.
Typically, store managers are responsible for interviewing candidates. However, the process can be time consuming and detract from one of Kroger's main focuses – taking care of the needs of in-store customers.
A workflow is used to track potential hires through the process, ensuring that managers have accurate information on candidates before their in-store interview. Telephonic interviews are conducted and detailed information on the interview, the candidate's resume and other important data are logged. This not only saves time, allowing store managers to spend more time with customers, but also means that store managers feel assured of due diligence, and a supporting background during the interview process.
Benefits Realization
Time to service: Automation saves Kroger critical time and frees up Alemba Service Manager analysts to focus on other projects.
"The flexibility of the workflow is critical to our business, not only for the Kroger Technology arm, but also for the business as a whole. We are able to bring the advantages of automation technology to the rest of the business and bring improvements to all areas of the company"
Future Plans
The Kroger Technology team plan on continuing to expand the benefits of workflow automation to their business partners. "There are many undiscovered areas that can benefit from the workflow," says Sullivan. "We will continue to push those benefits and develop it into other mission critical areas of the business."