Customer experience (often abbreviated to CX) seems to be somewhat of an IT and IT service management (ITSM) buzz-phrase of late. I've no issue with this, in fact I think it's a good thing – taking the focus even further away from the technology, towards how it's consumed and the outcomes it helps to deliver, is where corporate IT organizations need to be.
But many of us first need to ensure that we fully understand what customer experience is, especially after trying to focus on "customer service" for so long (or at least focusing on the service desk's issuing of customer satisfaction questionnaires and the reporting of the results as a best practice activity).
Customer Experience Defined
It's easy to grab a definition from the Internet these days, unless like me you get caught up spending too much time trying to weigh up the best one to use. For instance, starting with Wikipedia:
"Customer experience is the product of an interaction between an organization and a customer over the duration of their relationship. This interaction includes a customer's attraction, awareness, discovery, cultivation, advocacy and purchase and use of a service. It is measured by the individual's experience during all points of contact against the individual's expectations."
But then preferring Forrester's, the global research firm, shorter definition:
"How customers perceive their interactions with your company."
Customer Service Can Be Great Until Things Go Wrong
I like to buy from companies that have a reputation for great customer service. For instance, Amazon for easily-returnable commoditized items and a certain UK department store that prides itself on its customer service, price promise, and extended warranties. So, in buying a baby car seat, the latter store was ideal, especially in also being able to have a demonstration of how to fit and use the car seat.
But guess what, the car seat developed an issue over time. So we took the car seat to the store, hoping that the staff could show us what we were doing wrong in using it. After all, these car seats are vigorously tested so it had to be us not the car seat.
It was great customer service, as we had expected, but there came a point when we realized that we were having a bad customer experience…
The Point When Customer Experience Differentiated Itself from Customer Service
Having replicated the car seat issue instore, we left the car seat with the store's staff for them to investigate it further. When we returned to the store we were told that there was a fault with the car seat – which is not something that you want in a product designed to protect your first born. At that point, while annoyed that we had been sold a faulty product, we were pleased that the fault had been identified. So what was the store's resolution?
The store needed to send the car seat back to the manufacturer for its opinion. Which was fine, but how do we get our baby home safely without a car seat? The offered solutions were that we could:
Take our baby home in the now known to be faulty car seat and return with it later without the baby. Which of course no sensible parent would do.

Take the store's display model and forfeit our car seat. But why would we permanently swap our relatively new seat for one that had been "tested" by hundreds of parents and babies, with the associated potential hygiene and safety issues?
I instead offered to buy a new car seat but the store doesn't hold stock in site. I also offered what I thought to be a sensible compromise – that we would take our baby home in the store's display car seat and bring it straight back in less than an hour. Sadly, this wasn't possible as the store couldn't be sure that we weren't returning it after having been in a car accident in the hour we were using it (you can't make this stuff up). It seemed a pretty one-sided trust equation and didn't make me feel great as a customer.
Thus the customer experience at this point – as we stood in the store, stranded in the city centre, with a baby we wanted to get home safely – was pretty poor. And, after mulling over the other options, which included taking our baby home on the bus, we decided to just buy another car seat from a different store that had room to hold stock on site.
Surely our situation wasn't unique and surely the store had arrangements to deal with such situations as part of its overall customer experience strategy? But our experience sadly proved it to be otherwise.
The Solution and an Excellent Customer Experience
My partner drove to an out of town store (which thus has the space to hold stock), spent time talking with a member of staff re the pros and cons of the car seats they had in stock, and then returned with the new car seat installed to pick our baby and me up from the city center. Other than shelling out money that we didn't need to spend it was finally a relatively pain-free solution to our situation.
The customer experience with the second store then got even better when, after a few days of using the new car seat, we realized that it wasn't right for our baby. We returned it to the store which, appreciating that we didn't have our baby with us when buying it, allowed us to swap it out for a different model. Great customer service but even more importantly also a great customer experience.
The second store seemed to understand our situation, whereas the first was just trying to give good customer service by following policies that didn't seem to reflect a. the fact that things do go wrong and b. that as parents we wouldn't do anything to risk our baby's safety. From a customer point of view, I think that most of us are happy to accept that things do go wrong as long as the actions taken once an issue is reported seem reasonable and ultimately rectify the situation.
Differentiating Customer Experience from Customer Service
As hopefully my personal example shows, you can offer/receive great customer service but still have a poor customer experience. With customer experience being very much about how the customer feels they are being treated even in unusual situations. Especially when the customer feels that the vendor should have planned for such scenarios.
In my case the vendor hadn't fully mapped out the customer journey for car seat purchases. Yes, it was easy to consider the available options, to get advice, to pay, and to receive delivery of the car seat but the policies and process for when a car seat fails were totally unacceptable from a customer point of view. And it's such an emotive purchase – with parents concerned about both their baby's safety and also complying with the law.
In our situation I personally expected more and, importantly, I expected better from the store.
Finally, in drawing my experience back into the ITSM world, where we spend an awful lot of time and money dealing with end users/customers who have issues with their IT. What's your customer experience like when end users/ customers have issues? Are service desk agents just following scripts or can they empathize with the person on the other end of the phone to deliver an appropriate customer experience even if it means freestyling a little?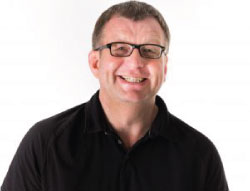 ---
About Stephen
Principal and Content Director at the ITSM-focused industry analyst firm ITSM.tools. Also an independent IT and IT service management marketing content creator, and a frequent blogger, writer, and presenter on the challenges and opportunities for IT service management professionals.
Previously held positions in IT research and analysis (at IT industry analyst firms Ovum and Forrester and the UK Post Office), IT service management consultancy, enterprise IT service desk and IT service management, IT asset management, innovation and creativity facilitation, project management, finance consultancy, internal audit, and product marketing for a SaaS IT service management technology vendor.