So here's the thing. We work in an industry that's fast paced and constantly evolving. We're told to "go big or go home" but there's so much to keep up with in IT service management (ITSM) these days. Not only ITIL and COBIT but also Lean, Six Sigma, DevOps, Agile, and service integration and management (SIAM) – so it's no wonder people struggle to keep up or can get confused. If you want to know about the latter – SIAM – then this blog is for you.
The SIAM Basics
Let's get this from the horse's mouth, well, from one of the first large users of SIAM concepts – the UK government. The GOV.UK website defines SIAM as follows:
"Service integration and management lets an organization manage the service providers in a consistent and efficient way, making sure that performance across a portfolio of multi-sourced goods and services meets user needs."
In other words, SIAM is:
A framework for managing multiple suppliers of IT services and integrating them to provide a single business-facing organization.
An adaptation of ITIL and other IT management best practice that focuses on the delivery of key services by multiple suppliers in a way that appears seamless to the rest of the business.
Common sense!
SIAM supports organizations in managing multiple services across multiple suppliers. In other words, trying to bring order to chaos. Let's face it, the traditional model of in-house IT departments doing everything from the basement is becoming more and more outdated.
Organizations are moving towards outsourcing, co-sourcing, and multi-sourcing; and with each additional supplier, partner, and vendor your company's IT estate gets more complicated. Enter SIAM, with SIAM here to help you manage multiple suppliers in a way that delivers seamless service to the end customer.
SIAM's Key Concepts
At a very basic level, SIAM can be considered a function that sits between customers and suppliers to ensure that the service being paid for is delivered, managed, and governed in a consistent way.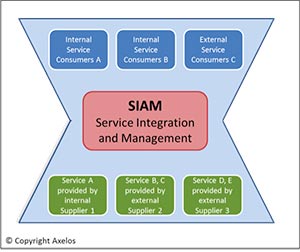 Image credit: Axelos
Figure 1: Basic SIAM Model
Add in some real-life processes and functions, and this is what SIAM looks like for GOV.UK: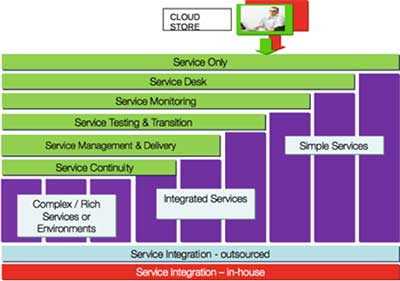 Image Credit: GOV.UK
Figure 2 GOV.UK SIAM Example
Why do companies need SIAM?
There are many reasons that will be dependent on your company's status quo and future wants and needs. A few possible reasons include:
That multi-sourced, multi-partner operating models are becoming more and more common and to ensure that IT service delivery continues to add value, effective service integration and management is key.
The increasing quality expectations from end users, while the IT organization is operating with a static or decreasing budget. The 2008 financial crisis, the credit crunch that followed, and more recent financial anxieties mean that IT departments are expected to do more with less. Whereas end users and customers live in the age of Facebook, Amazon, and Google and expect more – with a user or customer experience to match their consumer-world experiences. For corporate IT organizations, not being able to keep up with the consumer world simply isn't an option any more.
If you're struggling to effectively run your IT department and manage suppliers, even with an existing supplier management process, it might be because the number of suppliers has exceeded the span of control. In which case, using SIAM will help you see the proverbial wood for the trees.
How do you know if you're struggling? If your day-to-day service delivery feels like an exercise in trying to herd cats, then you might want to look at SIAM.
Getting started with SIAM
SIAM is all about effective relationships, so starting with the people side of things is key.
The starting point for any SIAM initiative, post initial planning, is the creation of a SIAM team to help bring about the required change and to ultimately act as a single point of both accountability and contact. The SIAM team will be able to create an initial SWOT analysis of the service delivery and management environment, and then a strategy for managing issues and optimizing service.
Ultimately, the key objectives for the SIAM team are to:
Manage multiple suppliers, vendors, and partners to give the best possible mix of flexibility, stability, innovation, and continual service improvement (CSI).
Be accountable for the integrated services being delivered to the business.
Act as the central point of control between IT supply and demand.
Specify the ITSM processes deployed across the enterprise and to ensure that they are being followed consistently.
Play a central role in coordinating all ITSM processes.
When looking at using SIAM to improve service performance, I like to use our old friend Deming to ensure that things stay on track. Here's an example of a Deming Plan-Do-Check-Act model for SIAM:
Plan
* Build a SIAM strategy including business plan and quick wins
* Scope
* Service
* What does good look like?
Do
* Set up function
* Document SLAs, OLAs and UCs
* Work with suppliers to organize for the new SIAM environment
* Transition and go live
Check
* Monitor and report
* Review overall service performance
* Complete new baseline
Act
* Create CSI plan
* Implement improvement items
* Prioritize quick wins




The Benefits of SIAM
Finally, we're on to my favorite part of this SIAM 101 – the benefits of using it:
A single point of contact, ownership, and control for IT services; where nothing can be lost, ignored, or forgotten about.
Regulated supply and demand – an effective SIAM function maximizes the performance of end-to-end IT services and helps to ensure that they are delivered in the most cost-effective manner. SIAM ultimately acts as the central point of control between demand and supply.
Clearly defined roles and responsibilities, preferably nailed down in a RACI chart.
Optimized cost of services.
More effective change management. By acting as the gatekeeper, the SIAM function ensures that all changes are appropriate to the customer organization estate and operations.
Streamlined management of IT services.
Consistently applied processes.
A more transparent IT landscape.
Increased customer satisfaction.