As an ITSM leader or manager, you might be surprised to learn that, in reality, all is not as rosy as you believe. Guest blogger Daniel Breston shares how to see below the waterline, and fix issues to make things work better, faster, and safer through the better use of technology.
Leadership. It's been around since the dawn of mankind, let alone since the advent of IT and now modern-day companies. Of course, we all know how it works – management, strategies, delegation, hierarchies, spans of control and influence, metrics and reporting, etc.
The iceberg diagram shown below has been used countless times since it was first published in 1968, to show how leadership can still be "blind" to much of what's really happening in their organization or teams. I won't debate the diagram's accuracy, and will instead use two short stories to prove its ongoing relevance to IT and IT service management (ITSM) leadership.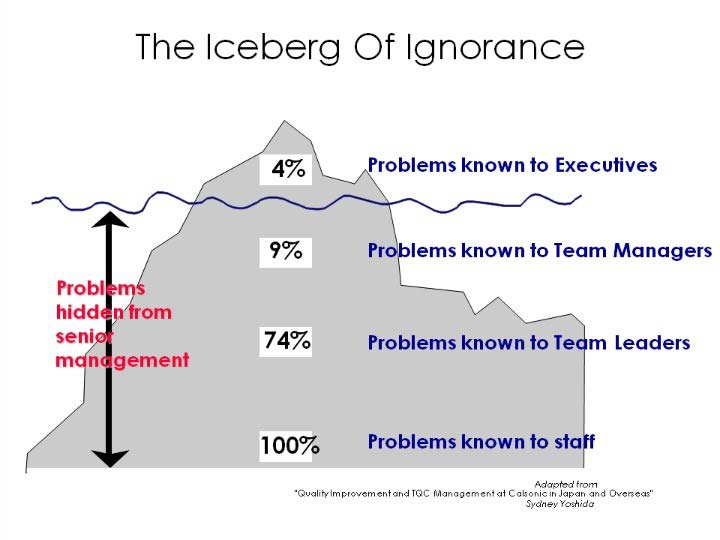 CIO Iceberg Story #1
A major European soccer tournament was about to take place, over a month-long period, and the local hotels had long been booked to capacity. As the event drew near, the CIO of one of the local hotels made a decision that would help "improve" the check-in process.
I stayed at this hotel, while working for a local bank rather than just staying for a single night for a soccer game, and watched in bemusement as the check-in lines got longer week by week.
I approached the reception duty manager for an explanation, and she told me of the recent IT change that was intended to make check-ins easier. So, I went to speak with the CIO to ask him if he had reviewed his change post-implementation. His answer was: "No – why should I? They will tell me if there's an issue."
Alas, he was blind to the problem below his line of sight.
CIO Iceberg Story #2
The CIO of the largest bank in an Eastern European country had decided that if you worked for the bank, and were in the capital area branches, then you didn't need a security token to login. But if you worked for the bank, and were outside of the capital, you would still need a token regardless of whether you were an employee or consultant.
Every month for the next eight years, the service desk sent out over 1,000 tokens for new employees or replacements for lost/broken tokens. The CIO was unaware of the extra work caused by his security-token policy and was certain that if it had caused any issues he would be told.
Sherlock Holmes to Dr. Watson: "You see but you do not observe"
How many managers, regardless of their level, run their areas of influence by reports and never observe their areas, or those they support, in action? How many wait for someone to come to tell them that there's an issue? How many make decisions based on the reports and never reflect on the consequences because what they measure, or need to know, is considered to be adequate enough?
How many would benefit from just "taking a look around"?
Back to the CIO Iceberg Stories
The hotel CIO stood behind the receptionists, saw what his change had caused and immediately improved the process and technology the receptionists used. The check-in lines were soon very short again and customers, such as myself, were very relieved. The CIO then walked around the hotel daily, looking for other ways technology was not helping his business.
The bank CIO finally walked into the service desk and saw someone filling envelopes with tokens. When the service desk agent was asked why (by the CIO) he stated that the CIO had mandated that employees outside of Warsaw, even though on the bank's network, needed tokens. So, he needed to post out about 1,000 tokens a month. The employee didn't know he was talking to the CIO but the CIO recognized the wasteful activity his mandate had caused, and their networks were now more secure no matter where an employee was located. The CIO told the employee to stop doing this, cancelled his mandate, and began a policy of regular walks around the bank to see how else technology was hindering operations or could be used more usefully.
The Moral of the Two Stories
It's nice to have reports to look at, or to think that your reports will tell you what's wrong. However, often the corporate culture is such that, when leaders read reports, they only want to see green, and thus this is what they are shown. Even if they see red or amber, they expect that next month the color will change to green. Why? It's probably because this is what we tell them (in the report) based on their desire to see more green.
As an ITSM leader or manager, you might be surprised to learn that, in reality, all is not as rosy as you believe. You will be even more surprised to learn how easy it is to see below the waterline, by observing and asking people questions. And to then fix or improve many of the issues you see to make things work better, faster, and safer through the better use of technology.
---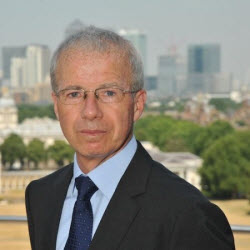 ---
About Daniel
Daniel is an independent IT consultant with over 30 years experience. With a focus on blending Agile, Lean, DevOps, and ITSM environments to help businesses get the most from their investments in technology, Daniel is also a well-established speaker, mentor, and trainer, as well as a fellow of the BCS.
In addition he is an Associate Consultant at ITSM.tools.