When it comes to selecting an ITSM tool, Alemba Service Manager offers several compelling reasons to be considered as your top choice. Here are six reasons to choose Alemba Service Manager:
Depth of Functionality
The Alemba Service Manager ITSM tool provides a comprehensive set of modules with robust features that cover the entire spectrum of IT Service Management (ITSM) best practices. Alemba Service Manager was certified by PinkVERIFY for 18 ITSM processes in 2023. Alemba Service Manager supports your business workflows with end-to-end, customer-to-agent interfaces driven by a powerful business process engine.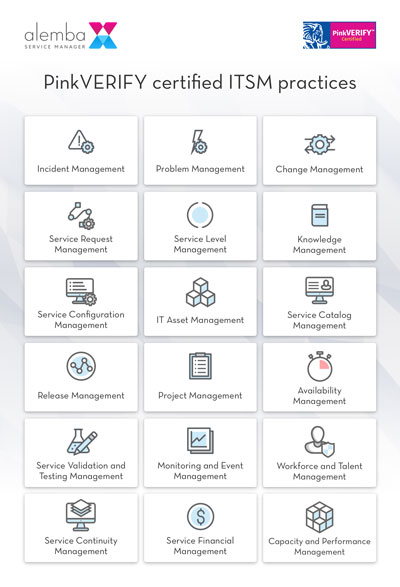 Flexibility and Configuration
Alemba Service Manager offers a highly flexible, GUI driven, user configurable platform. It allows you to tailor the tool to model your organisation's unique business requirements, process workflows, and corporate branding. The powerful screen designer graphically controls the creation of process workflows, form designs, field creation, and automation rules, enabling a tailored experience for your support customers and agents.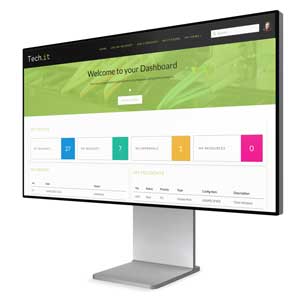 Customer-Friendly Interface
The Alemba Service Manager self-service portal provides a zero-learning customer interface that enhances usability and promotes adoption. Its modern design and seamless navigation make it easy for end-users to interact with the tool, improving productivity and user satisfaction and reducing IT agent workload.
Integration Capabilities
Alemba Service Manager's advanced, self-documenting API supports seamless integration with other IT tools and systems. It enables you to integrate with third-party applications, such as monitoring tools, asset management systems, and collaboration platforms, streamlining data exchange and ensuring a unified IT environment.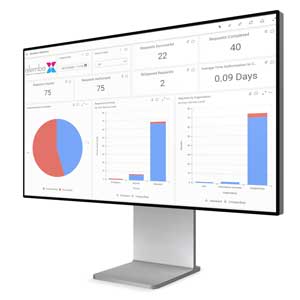 Reporting and Analytics
Alemba Service Manager offers robust reporting and analytics capabilities. It provides pre-built reports, dashboards, and data visualisation tools that offer insights into key performance indicators (KPIs), service levels, trends, and more. This enables you to make data-driven decisions, identify areas for improvement, and demonstrate the value of your IT services.
Customer Support and Community
Alemba Service Manager is backed by a responsive customer support team that is committed to assisting you throughout your ITSM journey. The Alemba team provide timely assistance, guidance, and training resources to ensure your success. Additionally, Alemba fosters a vibrant user community where you can connect with other users, share knowledge, and exchange best practices.
Consider these six reasons to choose Alemba Service Manager as your ITSM tool of choice, and explore how it can empower your organisation to deliver efficient and effective IT services.
Book a demo with one of our product experts today to find out how Alemba can support your ITSM success