Did you know that there are various ways of getting help with your vFire application? Here are six ways to get help if you find yourself stuck with an issue in vFire:
The Matching Panel
The Matching Panel within vFire enables faster call resolution by providing an at-a-glance list of calls and knowledge articles relevant to the call you are working on.
The list dynamically updates as data is entered into the call, or as filtering options are changed. Selecting a call or knowledge article from the list displays more details in Quick View within the panel. One-click actions enable analysts to link/unlink calls or knowledge, email knowledge content to users, or automatically close the call using a selected knowledge article.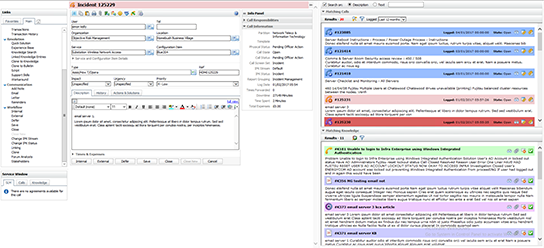 Suggested Knowledge
Suggested Knowledge promotes knowledge articles to users during call logging to achieve faster solutions for users and reduced workload for the Service Desk.
Turn on Suggested Knowledge to display relevant knowledge articles to users while they complete call submission forms in the Self Service Portal.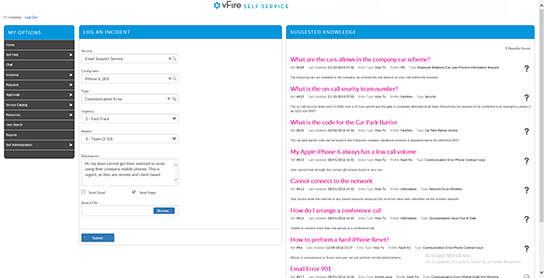 Knowledge Bank
vFire's integrated Knowledge Management system allows you to search the Knowledge Bank for reported issues that could help solve your current Incident.
By enabling your customers to access Knowledge directly on vFire Self Service, they can 'pre-diagnose' issues that are logged to your Service Desk and even prevent tickets from being logged entirely.
Alemba Online Help
You can search the Alemba online help system for information on vFire functionality, new features and much more.
Visit the online help to get started.

Alemba User Forum
The Alemba User Forum is a peer-to-peer support forum. You can log in to this forum via the Alemba Self Service portal to share experience and knowledge with other vFire users.
Watch our video to learn how to use the Alemba User Forum
Log a Call
There are three ways to log calls to the Alemba Service Desk:
Self Service Portal - https://www.alemba.help/
Email - [email protected]
Phone -

+01 (855) 261-1797 USA
+44 (0) 203 4797900 UK
+61 (0)2 8520 3584 Australia
+64 (0)4 8318797 New Zealand
Requirements when logging a call
Ensure you include all details needed to locate and replicate the fault:
Specific details on which part of the system the problem occurred
What you were trying to achieve
Steps to recreate the issue
Screen shots of any errors received in the system or the server event log.
That's it! I hope these tips have helped you get the most out of your vFire application.
---