What is Alemba doing?
The Alemba wildcard SSL Certificate is due to expire on 7th September 2022 and Alemba have been working to deploy an updated certificate with minimal impact upon service.
Alemba will be replacing the SSL Certificate on all systems to allow continued secure access to your Alemba Service Manager or vFire Alemba Cloud Hosted Systems.
The SSL (Secure Socket Layer) certificate is a digital certificate that authenticates a website's identity and enables an encrypted connection between the Web Server and the Browser (Using the HTTPS Protocol).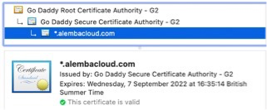 How does this affect Alemba Customers?
This affects all Alemba Customers using our Cloud Hosted/SAAS solution to access Alemba Service Manager (ASM) and vFire Service Manager (vFire).
If you are hosting your ASM or vFire Application On-Premise or in your own Cloud Infrastructure, you should not be affected by this upcoming Alemba Cloud Service change.
As part of applying the new SSL Certificate there will be a short outage whilst the Web Server is reset. This will vary on a system-by-system basis but should be between 30s and 3 minutes.
When will this take place?
Starting Monday 15th August 2022 until Friday 2nd September 2022 we will be rolling the certificate updates out to affected cloud systems.
We will be updating your Test and Development Environments first and then updating Production Environments.
We will be updating Production Environments outside of typical core working hours i.e. between 7pm and 11pm local time.
If you have any queries or questions, then please log a support call through the Alemba Support Portal https://alemba.help.